Thanks for printing! Don't forget to come back to Mr. Clean Car Wash for fresh articles!
Sanitization and Disinfecting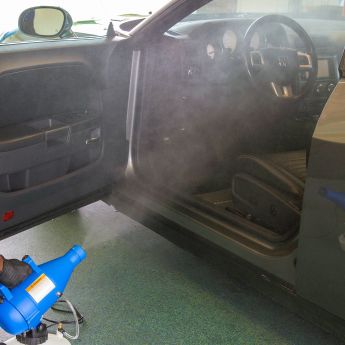 Keeping Our Guests and Associates Safe!
Sanitization and Disinfecting Services
In order to keep our Guests and Associates safe, Mr. Clean Car Wash has a Sanitization protocol for all locations which includes the lobby's, Auto-Cashiers, and our Guest vehicles for all interior services before we enter and after we service.
Interior Disinfecting Services
We also offer "more muscle" with an interior Disinfecting Service for those Guests who wish to have even more protection throughout their vehicle. We utilize a fogging machine with an EPA-registered, hospital-grade disinfectant that meets the EPA's criteria for use against COVID-19. The fogging takes place after the occupants have left the vehicle and then we disinfect the entire inside and trunk area as well as the heating and air conditioning duct system by utilizing the recirculate air setting.
Social Distancing
In order to protect our Guests and Associates, Mr. Clean Car Wash has instituted social distancing and safety protocols throughout the location as much as possible. This includes inside our lobbies and outdoor seating areas. Additionally, our cashier area includes a plexiglass shield for additional protection.
Lobby
For additional safety, every 2-3 hours we utilize the same EPA approved hospital-grade disinfectant to fog our lobby and restrooms to sanitize all areas our Guests and Associates have access to. Hand Washing is available in the restrooms as well as hand sanitizer near the cashier area.
Health Screening
Mr. Clean Car Wash Car Wash conducts a health screening of our Associates daily to ensure a safe environment for all team members and Guests. The Centers for Disease Control and local health officials' guidelines will be adhered to and we will adjust any protocols when necessary.
Questions
Please contact your local Mr. Clean Car Wash with any questions!